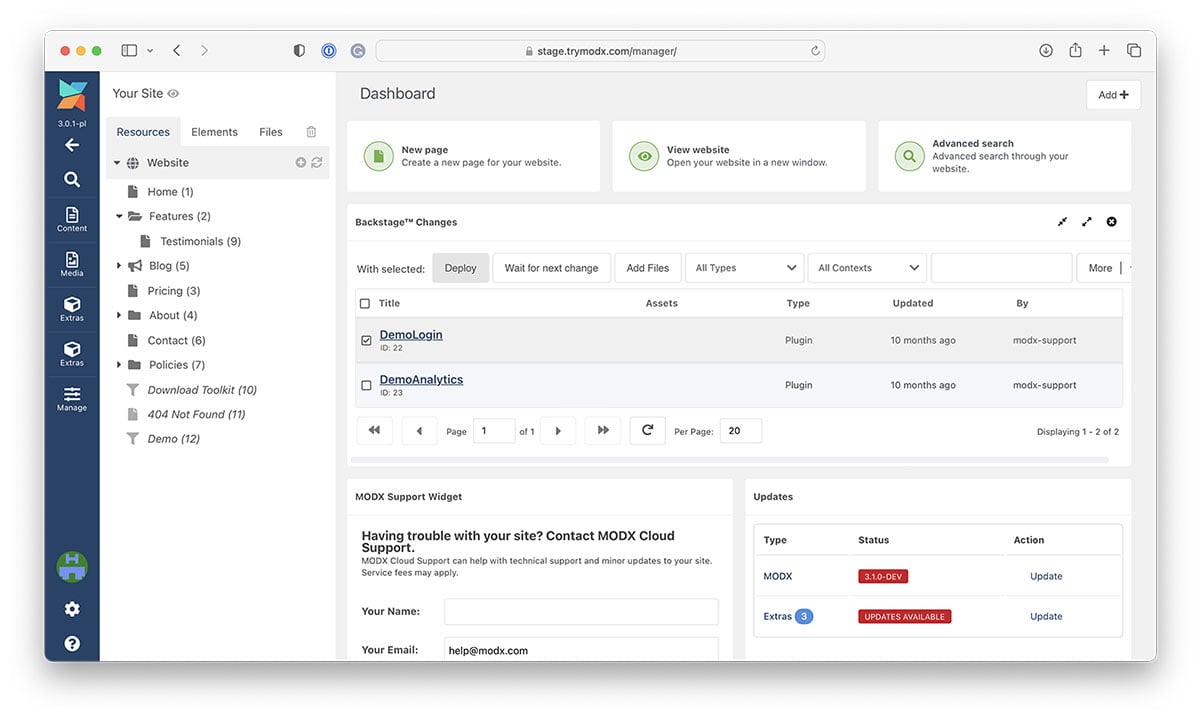 Revolution

ize

Your Web Experience

Unlock your digital potential with MODX. Pair our open-source CMS with our managed hosting platform for unmatched speed, security, and collaboration. Skyrocket your success with captivating sites that convert. 🚀
Growing Organizations Trust MODX
Try MODX Cloud Today
Start your 7-day, no-obligation free trial for instant access to MODX Cloud. Experience first-hand what makes us different than any other host and get expert tips on speed, security, maintenance, support, and collaboration direct to your inbox so you can start creating and managing your sites the right way.
Try for Free
Supercharge your site with MODX
MODX is the ultimate platform for any digital experience. It combines the best of open source CMS, development frameworks, and managed cloud hosting. Blazing fast. Secure. Infinitely flexible. MODX helps you create, collaborate, deliver, and iterate with less complexity, compromise, and bloat.
Collaborate and iterate with website superpowers
MODX gives powerful collaboration tools to normal users, including industry-leading Backstage selective content staging. Multiple ways to stage content and roll back if you change your mind. You can manage your content lifecycle without needing server admins or DB geeks to help.
Powerful fully-managed hosting for peace of mind
MODX Cloud pairs fully-managed secure hosting with expertly tuned platforms and adds amazing collaboration workflow for MODX Revolution. Free SSL, upgrading MODX, restoring automatic backups, content staging, cloning sites, and more are just button clicks away—no sysadmin required.
Unparalleled security baked into the core
Most assume their web CMS is secure and don't give it a second thought—until it's too late. MODX is purposefully architected with security first in mind with a long track record as the most secure open-source CMS to back it up.
Customize content management to the job
Your unique digital experience deserves a CMS tailor-made for the job at hand. MODX gives you the most powerful access controls and customization of any CMS so each person can focus solely on the work that's relevant to them. It's like getting a custom CMS with proven security without hiring a team of developers to create and maintain one.
Complete creative freedom and content control
Go from design to production using any markup, CSS framework, or Javascript you wish. With presentation, content, and functionality fully separated, making updates is fast and straightforward. We call this creative freedom—if you can prototype it MODX will power it with pixel-perfect precision.
Blazing-fast dynamic websites without the bloat
The MODX template system with built-in caching gives you the ultimate flexibility to build exactly what you envision, from simple marketing sites to complex digital experiences—and have it perform. Free of slow spaghetti code, mixed markup and PHP, and fragile theme dependencies, MODX delivers blazing-fast websites that pass Core Web Vitals (CWV) with ease. It's what you need to succeed.
10s
of Millions of Downloads