Creative Perspectives is a series of interviews with Designers and Creatives discussing their tools, design and how they use MODX. This first series of profiles and the interview questions were produced in conjunction with CMS Expo. Over the coming weeks we will be posting Creative Perspectives on each respective site. Want to share your Creative Perspective? We'll let you know how in an upcoming post.
---
Who's Anne Miles
Name: Anne Miles
Location: Louisville, KY
Title: Toad-in-Chief
Company: Red Toad Media
Twitter: @redtoadmedia
Anne is a designer and information junkie with a passion for user interfaces, gaming, business, marketing and languages. Her experience ranges from UI design for software companies to designing children's books. She blogs whenever possible and has been a contributor to Smashing Magazine and People Stories, Inside the Outside, a collection of essays by the Wizard of Ads.
Interview
Remember your first computer? What was it? Any interesting stories behind it?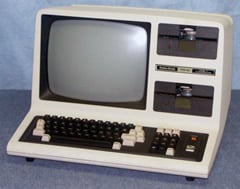 A TRS-80! It was the all-in-one model with the insanely huge and loud dot-matrix printer. It was the same model we had in the computer lab at my high school in 1987. I took a BASIC programming class, but my real takeaway from the class was how to use SCRIPSIT... an early word processor. I ended up making extra money through high school and college doing resumes and papers for others with that.
So...Photoshop or Fireworks or both/neither and why?
Photoshop. When I was in school we learned Freehand and Fireworks as alternatives to Illustrator/Photoshop but I just liked the UI set in the Adobe products better. Illustrator was the big deciding factor there. I do occasionally work with channels and lab color, and do print work as well as web, so PS is more versatile for me.
Who is the person who inspires you the most creatively, and what you admire most about them?
Impossible question. I will give you a short list. Roy Williams (Wizard of Ads) - for wordsmithing, Mary Engelbreit - for sheer business sense and endless joy in her art, Jelly Helm - chutzpah and exploration, CS Lewis - attention to reason, Rauschenberg for the glint in his eye, Andy Clarke for his obstinance. Jesse Schell for his keen observation and then how he uses that to engineer. Mark McGuinness for his courage and poetry.
I find new heroes daily.
What are young designers and upcoming art directors missing today that you got to experience first-hand, when you were starting out?
I think I have a real respect for the roots of where we are now with technology, and for ideas and not just pushing buttons or producing glam bells and whistles because you can. For me design is fundamentally about the message and purpose. When I was in school, we started with paper and endless thumbnailing; I still do that. I don't know if that has changed for schools? I find in some of the younger designers (web designers) that I know a lack of clarity about their message. That could be immaturity, a lack of thought regarding function. Impatience. It also reflects where they started. Print designers turned web designers can be woefully ignorant but so can developers turned web designers. There isn't a good balance. I wonder how much emphasis on the importance of thought there is now in schools. I think there is some confusion as to what design is. I'm not just an artist. I solve problems. There is much more attention paid now to interactive design as a discipline and that's been positive. Because I do some programming and work with so many geeks I have seen the iterative process at work and a lot of art directors/designers don't experience that to the same degree. I think it's been really helpful to me growing as an interactive designer.
Similarly, if you had to do it all over again, what do you wish you knew then, that you know now?
I wish I'd learned to program earlier. I don't think it's really possible to do good design for web without a groundwork of programming concepts/logic at least.
Quick, name your favorite 3 "must-have" apps and what makes them so?
Firebug – my little friend that keeps me sane and helps me bring my ideas to life.
BBEdit – it opens everything, it zaps gremlins (do you know how many gremlins are in photoshopped text?) it isn't heavy or cumbersome, doesn't try to correct my code.
Photoshop/Illustrator – two sides of the same coin. I use them for layout and comps and ...well, they're just essential.
Now if you mean fun apps I'd go with Scrivener for writing, Kindle Reader for Android and Netflix!
What HTML editor do you use? (or are you secretly using DreamWeaver in design view? :P)
I do use DW in design view in some phases of developing our custom templates, but it is normally split screen with me editing code. BBEdit is my workhorse. :-)
So, how long have you been using a CMS? What led you to start using MODX?
I actually started writing my own CMS back in...oh...2002? I got a SitePoint book on how to program php and mySql and one of the exercises was a simple CMS and at about the same time I did two sites for local businesses where I used my newfound knowledge. They were not fancy, mostly TinyMCE, a file manager and uploader. Then I started looking at and testing Joomla and Drupal. I implemented Wordpress. Drupal and Joomla just limited me, design-wise. WordPress was fun to use but not easy to make a website with. I kept exploring and stumbled onto MODX one day. It was version 0.9.6 and I had a site for a local mayor's race to turn around in a week. With the help of some tutorials, I did it and I never looked back.
What are some "must-have" features and add-ons or features you like most about MODX?
Template Variables. TV's are chunks of code that I can put anywhere in my design. They empower me to implement my vision instead of leaving me baffled, frustrated and limited, like other CMS's. I can do a full flash interface fed by XML with a separate mobile version or turn around and implement a full CSS3, HTML5, jQuery-animated marketing machine of a site. I have the power to customize every piece of the site on both admin side and on the front-end.
What capabilities does MODX give you and your team that you appreciate most, and why?
The front-end editing and ability to fully customize the admin means we can tailor our solutions for clients and give them a tool they will actually use. They are not afraid of the interface and enjoy updating their websites. It's also nearly painless to integrate RSS and social media in creative ways.
Who touches your CMS? All members? Freelancers? Your Clients? How is that working?
We use some freelancers who work with us and then we train our clients as users. It's not difficult to create different levels of users with different levels of access. We love that.
What are the most important things you've learned, using a CMS, versus the "old days" of static web sites?
We've learned how important it is to design a site for how it will grow in the future. It must be scalable. Websites are never finished these days, they grow. A site has to be designed and built in such a way that it can grow without agony of rebuilding or lot of hassle for the client. There has been a huge shift of power and control back to the client with the advent of CMS's, but we're responsible to give them good tools so they can publish without their sites turning into mammoth, difficult to navigate, confusing messes. It's like Christmas for us to see the eyes of a client when they realize they aren't hostage to a developer anymore.
Bonus Question: If you hadn't decided to go into the creative realm, what do you think you'd be doing today?
I would be a writer.
More from the Creative Perspectives Series
If you enjoyed this Creative Perspective take a look at the complete Creative Perspectives series for more inspiring and interesting stories from designers who use and love MODX.