How many penguins can you fit in a suitcase?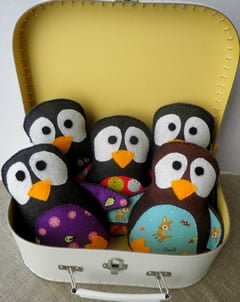 No one ever asks me that question, but I think it is very relevant to my job. Why? Because penguins are awesome, and a suitcase is not the world's largest container. It's analogous to a problem I struggle with weekly: trying to fit what I work on, and what I do for fun, into a week. I believe the things that I am privileged enough to do every day are awesome, but there are only so many hours in that week. I should call the board of standards and see if I can get them to make a week a few days longer.
Last week we invited all of the members of the MODX team from around the world to Dallas to discuss our present and future awesomeness. (And I can say that in all confidence because again, I believe this stuff is awesome. I'm not kidding. You can disagree with me if you like, I won't take it personally! But you would be wrong. :P)
Embedding Innovation
We started the journey of embedding innovation at the very heart of MODX. To do this, we needed a process that not only harnesses the skills and talents of all of our team while giving us the ability to engage with external folks as well, but also provides a structure around the areas on which we should focus.
We developed a simple but effective framework to quickly determine, prioritize and organize important activities, dubbed our "4i Innovation Grid". We deliberately mixed the teams up, and started brainstorming really good ideas for MODX the company, the CMS, the Cloud, and how we support customers of all shapes and sizes going forward.
I thought it would be fun to share how we went through this process, and to ask you to get involved. I'll cover how you can help more in a bit, but want to start by outlining our process:
The MODX '4i Innovation' Process
Our first step was dividing the whiteboard into the four quadrants above, and start brainstorming different ideas to put in each section. After extensive conversations and pie throwing we had copious amount of ideas on the board. All of them good, all of them valid. Once we were either a) satisfied we had them all or b) very, very tired of thinking really, really hard, the group then prioritized all of them we could. More discussion, more poor, unsuspecting pies lost, and we organized the penguins. We put them in the suitcase. We moved on to the next topic. We repeated this process for our four key areas—CMS, Cloud, Operations, and Support.
With the dust settled, the used pie tins thrown away, and the resultant sugar rush worn off, we split the company up into cross-functional groups. Each group would take the priorities provided by all members of staff, put them in order of the most critical or "Critical Path" (I promise, the only businessy term I will use). This would become our future roadmap for our products.
Don't worry, I don't think it will change the current roadmap too much, but what gets published from it will help you—potential lover of penguins—see what we think these products should become. And that's where you come in.
Result: A Published Roadmap
Over the next few weeks, we will transcribe this information. Once properly massaged and put into small plastic baggies for storage in suitcases, we will entered them into our Project Tracker. We will also add the ability to vote on features to let you—and all MODX users—tell us how you feel about the activities we're planning. We're also going to organize and collaborate with groups of community members to add to the list of ideas for the products.
We Want You
In short, we want to recruit you. You, who believe in Creative Freedom, who believe that people want amazing, not ordinary, average or poor web experiences. We want you to help us understand better how you use CMS and Cloud (once Cloud is fully unleashed, of course), and how we can do more to make doing your web work not only painless but enjoyable and rewarding.
I want you to have days as awesome as mine, and I hope you consider the penguins.