About Sports Chat Place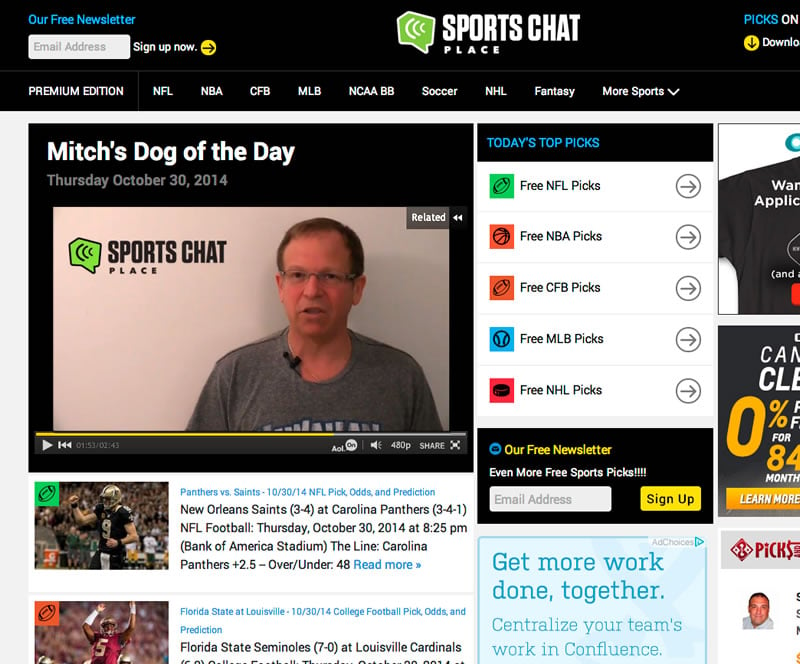 Sports Chat Place is a site for serious sports fans who are hungry for insightful analysis and predictions. The business of Sports Chat Place centers around a premium membership subscription service and ad revenues. The Memberships offer sports picks from their all-star Handicappers, with at least one article for every collegiate and professional men's and women's game. The site has been live since 2009 and has been growing its traffic monthly.
The Challenge
The growth in popularity of Mitch Wilson's site put serious and increasing strain on his server infrastructure. Even with over-provisioning hardware, they suffered frequent downtime. For his business of Premium Memberships and ad revenues, uptime is critical to business health.
Previous versions of the site built in WordPress, Joomla and Silverstripe melted down under the traffic his site generated. As a result, his users were frustrated by the crippling outages and slow performance, and it didn't build confidence for people to purchase a Premium Membership subscription. An initial MODX prototype was a major improvement, but it still needed additional tuning to achieve peak performance.
The Solution
The MODX team reviewed the site architecture, audited caching throughout the site, and performed benchmarking tests to determine key weaknesses. We provided a series of recommendations to address its performance and improve uptime.
We optimized the code behind dynamic parts of the site, addressed image thumbnail generation, implemented efficient caching, and moved to a more robust server architecture with proactive, around the clock monitoring. Due to the effectiveness of these changes, we were able to reduce the hardware needed to deliver content fast, halving processors and slashing RAM from 96GB to 16GB.
Despite the smaller server, it has more than enough headroom to handle the frequent traffic spikes that happen when big sports news hits the front page of search results. With the major changes implemented and a stable platform in place, the MODX team continued implementing performance tweaks and monitoring to further tune the site. Adding MaxCDN Content Delivery Network further halved ad and image heavy page load times, improving site responsiveness and keeping visitors engaged longer.
The Result
Mitch is incredibly happy that his site is now responding fast and no longer fails when sports fans rush to find out the latest picks. In the weeks before engaging MODX, Sports Chat Place could be down 2-3 days a week, sometimes for hours. Now Sports Chat Place runs smoothly, responds to visitor requests quickly and stays online.
Post Game
MODX did not just leave Mitch with a fixed site. We continue standing behind it with an ongoing Service Level Agreement, proactive monitoring and fixes, and recommendations for ways to continue improving his site. In short, MODX is part of Mitch's team, helping protect his business and keeping his subscribers and advertisers happy.